The "P2P" function is a cloud service that allows the mobile app full access to the recorder for viewing live video, search/playback and bookmarks. This feature eliminates the configuration of port forwarding on firewalls/routers, DDNS or static IP addresses.
Support Products:
NVRs
XRN-410
XRN-410S
XRN-810S
XRN-1610SA
XRN-2010A
XRN-2011A
XRN-3010A
QRN-410
QRN-410S
QRN-810
QRN-810S
QRN-1610S
Pentabrid DVR's
HRX-420
HRX-421
HRX-820
HRX-821
HRX-1620
HRX-1621
ON THE NVR/DVR
Go to Network section> P2P and then check ENABLE P2P.
Downloading our WISENET MOBILE app on your IOS or ANDROID device.
Scan the QR code on the ADD DEVICE section of the app.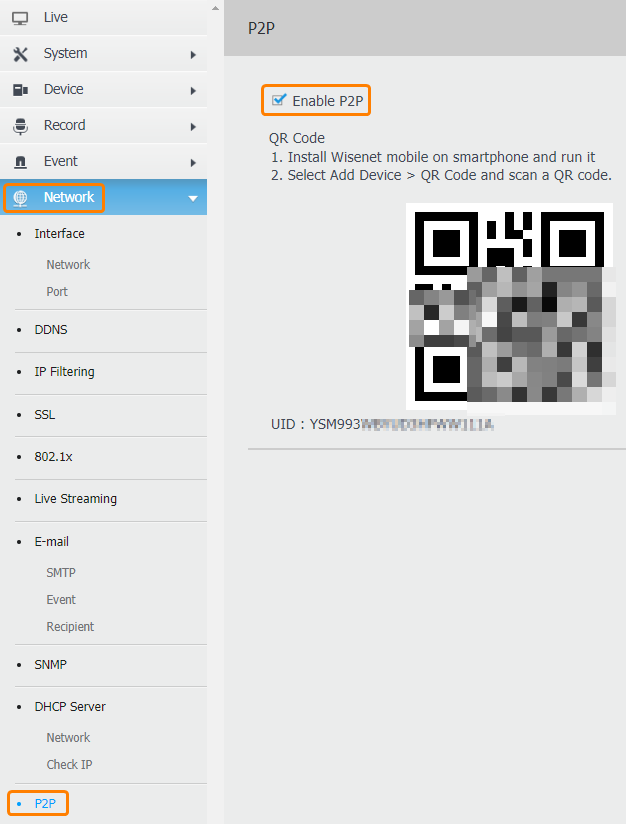 ON WISENET MOBILE
Under ADD DEVICE, Click QR CODE and your camera on the mobile device will allow you to scan the QR code. It's provided on the NVR's P2P setup menu or a sticker is on the actual device.
Adding devices is complete when the QR code of the device has been identified.
If your mobile device's camera that is non-functional, go to MANUAL SETUP.
Enter in the NAME, choose the TYPE as UID and then input the 20 digit UID value from the P2P setup menu from the NVR. (refer to image above)
Finally, input the credential of the NVR in the ID and PW fields then press OK to register.
NOTES
The P2P service is exclusively utilized with the WISENET MOBILE APP ONLY. The NVR cannot be accessed with a PC using the P2P function. The web interface of the NVR or Smartviewer does not give you the option to input the QR code or the UID.
If remote access is needed via other methods, then port forwarding of the HTTP and DEVICE PORTS on the router are necessary.